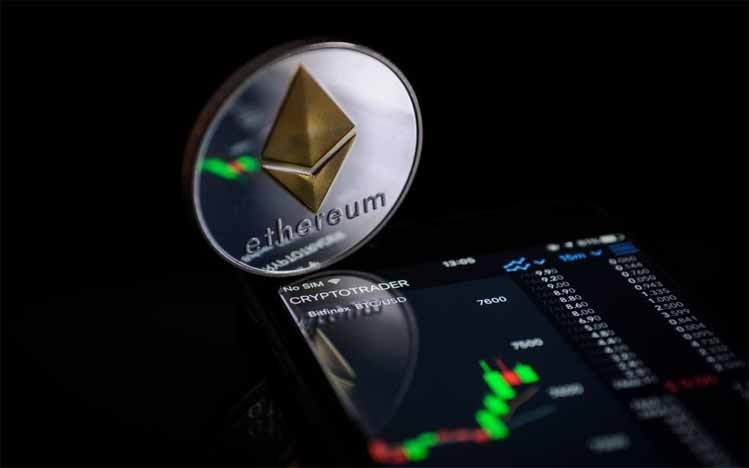 ETH (Ether), the main altcoin and crypto of Ethereum, still in a bullish price structure after a few days ago, again moving higher from the Lower High which implies there is a positive outlook on this crypto, which probably stems from its potential update, Ethereum version 2.0.
Now, based on data from Coin Market Cap (CMC), at the time of writing, ETH has a market capitalization of $291,390,940,366 and a daily trading volume of $35,370,291,676 which makes this crypto ranked 2nd in terms of market capitalization. And if we compare it to 2020, the market cap has seen a very rapid rise as new investor interest in mainstream crypto, including Altcoins, has increased.
4 Hour Chart Technical
At the time of writing, ETH has been able to move close to its ATH levels after establishing a recovery structure late last week, which executed well earlier this week, so this major altcoin looks to hold some on-bullish potential which is worth our attention.
In our technical view, the bulls still hold the dominance as long as they are above the red Up Trendline formed by each available Low, so for further validation, we have potential SR levels to retest at $2,335 and $2,646, to see how the market reacts to the wrong the other as a trend signal.
Here I try to describe it in the 4-hour technical chart below: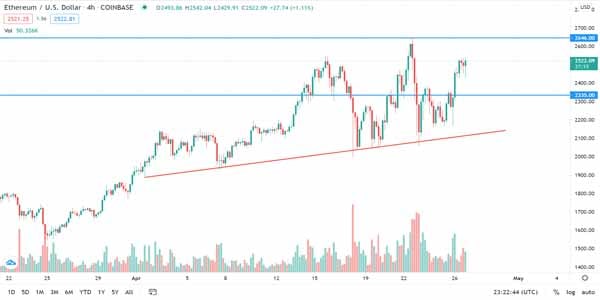 Based on the picture above, the price is in a capable bullish structure after being able to recover from the Higher Low range, even though the current price is in the previous Lower High range.
In my view, on this time frame, we will observe how investors react to Lower High to underlie trend signal readings before dealing with existing SR levels.
I read that a break or rejection of one of these SR levels will be a technical foundation that is qualified enough to read which way sentiment is bringing investors for ETH, regardless of its long-term bullish structure.
Daily Chart Technical: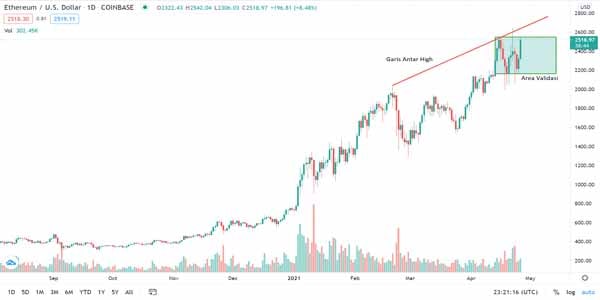 Also, in the medium-term view, this Ethereum token also looks quite bullish, so we chart it within the Validation Area.
In view of this analysis, the Validation Area is the 'Playing Area' for prices to create a trend structure, where currently the price is near its upper limit, so we will try to measure the Bullish potential from here, based on the price reaction actions that are formed
Apart from that, in a bullish view, we also mapped the Line Between Highs which serves to measure how strong the potential for a rally is if prices are able to continue moving up and retesting it.
And for the Bearish scheme, the price will be rejected from the upper range of the Validation Area to face the Support level on the 4-hour chart, where if it is broken down, then the lower limit of the Validation Area is the next goal.
And for a fundamental view, the decline in Bitcoin previously did not affect ETH which indicates, investors are starting to understand that both are cryptos that are unrelated, where ETH has its own basis, and is different from Bitcoin so for fundamentals, we can now focus on the Ethereum scope for this crypto.
(*)
---
Article is submitted
directly by the author
in publishing the analysis, point of view, essay or technical trading of the author. The writing in this article is entirely the responsibility of the author.