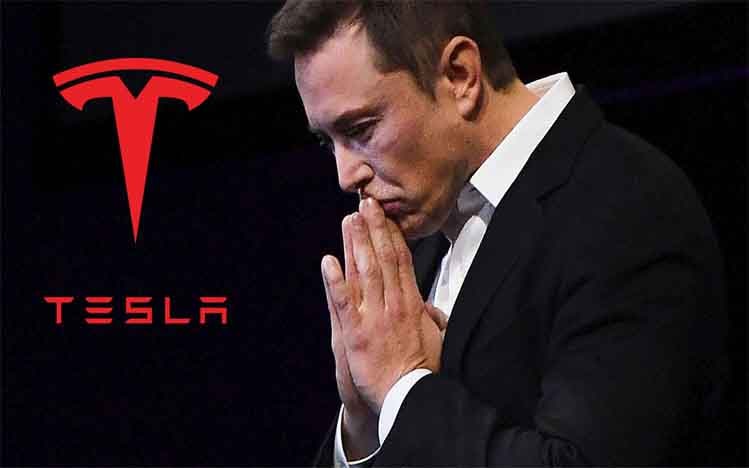 KANALCOIN NEWS – Elon Musk has certainly fallen from the list of the world's richest people after Tesla Stocks and Bitcoin have dropped in recent times. Musk's fall from the list of the world's richest people is thought to be due to a connection between Tesla shares and Bitcoin.
Tesla CEO, Elon Musk, is rumored to have given up his status as the richest person in the world lately. This comes following the fall in Tesla's share price and the price decline experienced by bitcoin, the crypto asset that Tesla has invested in.
According to Cointelegraph, Tesla (TSLA) stocks have dropped as much as 21 percent from their high of $890 on January 26. In the past two days, Tesla's share price has plummeted and touched a price of $698.
Then, on February 23 yesterday, Tesla shares fell again by 13 percent which was the worst stock day since early September 2020.
Wedbush analyst, Dan Ives said that Tesla's stock decline this week was related to the company's decision to invest in bitcoin. However, this decrease did not have much effect.
According to Ives, Tesla's decision to invest its funds in bitcoin is a long-term strategy.
"Investors are starting to tie Bitcoin and Tesla at the top. While Tesla on paper made around $1 billion in Bitcoin in a month which exceeds all of its EV gains from 2020, the recent 48-hour sell-off in Bitcoin and added volatility has pushed some investors out of this name in the near term, said Ives.
Tesla shares previously traded at $865 on February 8 when the Musk-owned company announced a $1.5 billion bitcoin purchase. However, in just 15 days, Tesla shares plunged to a value of $681 on February 23.
Although the purchase of bitcoin is said to be the cause of Tesla's stock price drop, problems related to quality control in China are also expected to affect the company's stock price.
Currently, Tesla has 48K BTC which has brought them a profit, even though the price is currently declining. That's because Tesla bought bitcoin when it was still around $39k. While currently, the price of bitcoin has reached $ 58 thousand.
According to the Bloomberg billionaire index, Musk has lost $3.56 billion. That brought Musk's net worth down to $180 billion. Musk lost to Amazon owner Jeff Bezos, who has a net worth of $187 billion.
By the time this news broke, the bitcoin price had depreciated to around $48k, down about 17 percent from its highest price in just three days.
(*)
Image Credit : thewealthadvisor