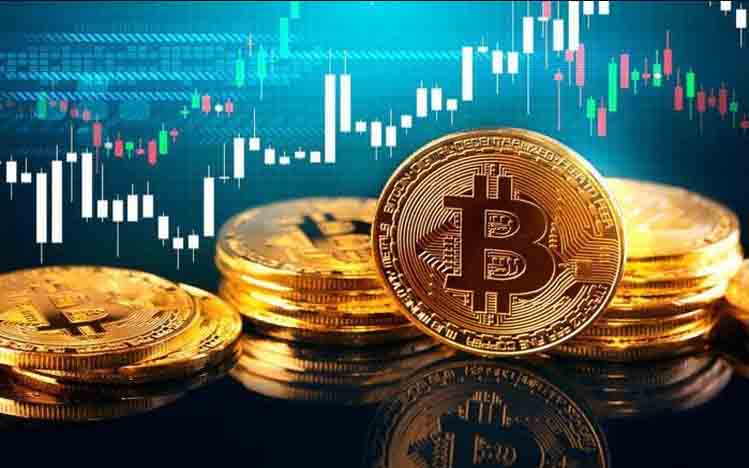 Bitcoin (BTC) is currently still in a 4-week bullish movement which we think is on the verge of confirmation with the resistance area being the main actor from a technical perspective which should not be ignored because of all possible mid-term trends, we think they will be here.
Now, based on data from Coin Market Cap (CMC), BTC has a market capitalization of $132,800,055,401 and a daily trading volume of $32,455,137,003 which still places it as the number one cryptocurrency. However, compared to mid-2019, the market capitalization has decreased, but in terms of daily volume, it has increased by more than $ 10 billion.
Short Term Technicals
At the time of writing, Bitcoin is still trading within the Bulls price structure at the level of $ 7,202, still at its highest level this week (as of April 13) which reflects the attitude of investors who are still trying to build a bullish narrative due to various sentiments that increase investor and trader confidence.
The price is still right above the Green Validation Zone, so the price status this time (continuing Break Up or False Breakout to fall) against this zone will be an important Price Action to signal the next trend.
Here we try to describe it in the 2-hour technical chart below: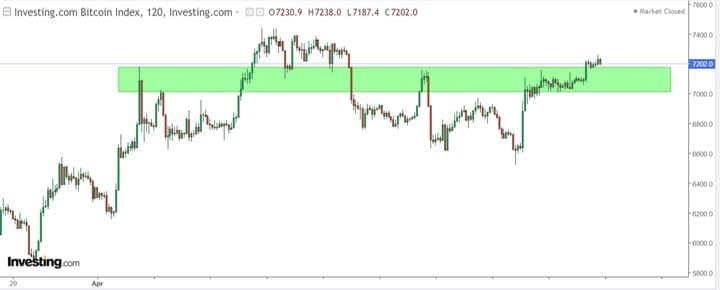 Based on the picture above, as described, Price Action in the Green Zone will be a crucial moment for the Bullish sustainability status, where if this week's closing prices are able to hold above it, the Bulls narrative still looks fine.
However, if this week's close closes below it (especially with a wide enough gap), then we will anticipate further declines because it is a signal of the bulls' lack of power in responding to a 'sensation' resistance in the current price range in the figure.
Long Term Technical
On the other hand, a leading crypto analyst on Twitter, Josh Rager, said that he is now still choosing to be neutral on Bitcoin, because this main crypto is still in the potential for a ranging movement.
He said in his Twitter tweet with reference to the image below: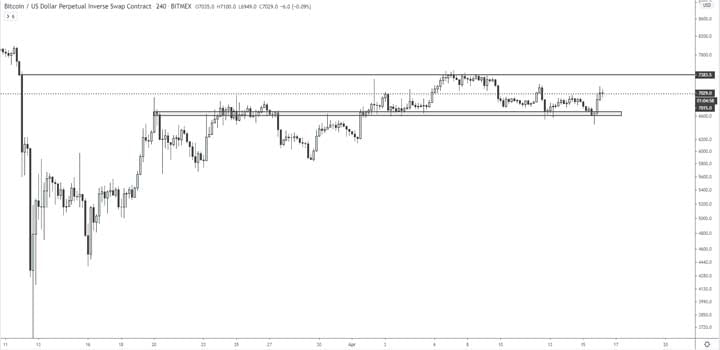 "$6,600 is Support to watch & has held a 4hr close since April 1st $7,383, still level to close above the pre-High at $7k and if BTC can close the 4hr chart [later this week] above $7k, could see another move up to my $7,400 Being neutral for now, it looks like BTC is still in this range (Ranging)."
It seems that in the long term, this leading analyst believes that BTC is still moving in a ranging potential (as shown in the picture) so we will also be wary of potential rejection of seller resistance at the upper level, $ 7,383.
If this upper level is able to be tested, then whether or not the price breakout at this level can also be a trend signal for the medium term.
---
Article is submitted
directly by the author
in publishing the analysis, point of view, essay or technical trading of the author. The writing in this article is entirely the responsibility of the author.