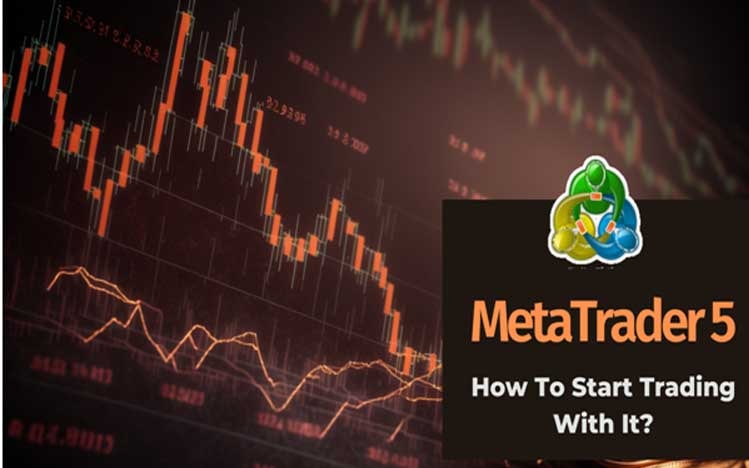 💡 TIPS – Trading is something that involves a lot of technicalities alongside the market fundamentals relating to the asset class that you choose. Trading in any market won't be possible without a powerful trading software loaded with all the basic and essential tools you would need to carry out the trading process easily. These days, traders have a lot of options to choose from for a trading platform, but the most popular choice happens to be the MetaTrader softwares. The MetaQuotes corporation became the top choice of millions of traders by offering the most sophisticated software solutions for a seamless trading experience.
Today, we will be talking about one such feature-rich trading software called MetaTrader 5, which is something that every trader needs to explore to take their trading to the next level. By the end of this article, you will be well-equipped with some useful basic information for easily getting started with MT5 trading.
What is MT5?
MT5 is the abbreviation for MetaTrader 5, a popular multi-asset trading platform launched by Metaquotes in the year 2010 to continue the legacy of MetaTrader 4, which was a huge success. MT5's predecessor MT4 was always promoted as a forex trading platform that allows trading in other asset classes like stocks, commodities and cryptocurrencies. But MT5 was introduced as a complete trading software designed for multi-asset trading with advanced capabilities making it an apt choice for modern-day traders.
If we compare both platforms assessing their features and tools, we can spot many similarities between them. The user-friendly interface, basic trading tools and intuitive features make both platforms pretty identical. However, we can easily understand the difference between the two as MT5 has a lot of additional tools and features, making it unique and more advanced than the classic MT4 platform. MT5 can support a lot more complex trading processes, attracting many traders who wish to get an advanced trading experience.
Let's look at the unique features/tools you get on the MT5 platform.
Multi-asset trading capabilities
Advanced MQL5 programming language
21 timeframes for analysis.
38 in-built technical indicators
44 analytical objects
6 pending order types
Partial order filling
Embedded community chat
Faster and more stable
Better functionality for algorithmic trading systems
How to Trade with MetaTrader 5 (MT5)?
Step 1: MT5 Download and Installation
The very first step that you have to take for MT5 trading is downloading and installing the MT5 software. Once you find the right MT5 broker offering a direct download link to the platform becomes a very simple process. The number of brokers who offer MT5 trading platform is lesser in comparison to those who offer MT4 trading platform. But you can still find quite a few options, as most top-tier brokers have already added MT5 for their clients. So, once you finalise the broker platform, you can click on the download link, and the process will begin within no time.
Just make sure your operating system is compatible with the MT5 version that the broker provides before downloading. In case of downloading MT5 on your desktop systems, you need to click on the installer file that gets downloaded and let it run to complete the installation process. After that, you also need to agree to the terms and conditions. MT5 is also available in the mobile app, which you can easily download on your ios and Android smartphones.
Step 2: Account Opening and Configuration
The next step is opening a trading account on MT5 by going to the file menu. Beginners are recommended to start with a demo account first, as that is best for learning more about the platform and its features. You will get to practice trading in a risk-free environment which is the best approach for a newbie. You can also choose to open a live account with your broker after submitting the required information and valid ID proofs asked for the same. Once your account gets approved, you will receive the login credentials from the broker via mail and can go on to the platform and fund your account to start trading for real. Also, don't forget to customise the charts and configure the platform to suit your trading style and requirements.
How to Open a Position in MT5?
In order to open a trade position on MT5, you will have to place an order. Once you have chosen the instrument you wish to trade, click on the tools and select the 'new order' option. There are more ways to place an order, as you can also use the F9 shortcut key for one-click trading through the chart. You can also right-click on the trade tab or double-click the asset you wish to trade with on the market watch window. After that, you simply fill in the order details on the order screen. This includes the symbol for your trading instrument, execution type, lot size, stop loss and take profit levels.
How to Monitor and Modify Your Positions in MT5?
You can easily monitor your trade positions and modify the orders by going to the trade tab, which shows all details about your open positions or pending orders. You can always adjust your stop loss and take profit levels from here.
How to Close a Position in MT5?
You can easily close a position or pending order by clicking on that particular trade or order on the trade tab. This will open a new window where you can see this option for closing the position. The trade will be closed once you click and confirm the same.
Advantages & Disadvantages of MT5
Advantages:
Too many options: You get numerous options for customisation as MT5 is very flexible and is designed to cater to the needs of different types of traders who trade different asset classes. You will always have options when it comes to chart types, indicators or other tools.
Way more advanced: MT5 is way more advanced than its predecessor MT4 with added tools, features and updated technology intended to give users the best ever trading experience.
Disadvantages:
Fewer Broker options: MT5 is still less commonly used than MT5; hence you get limited options for brokers to choose from.
Complicated: Since MT5 has more tools and features, it may appear complicated to newbie traders.
Conclusion
In the end, the MT5 trading platform is a product of innovation as 21st-century traders need to trade with better tools to navigate dynamic markets like Pro. So, each and every trader must take some time to explore the modern MT5 trading platform and make the most out of MT5 trading. The software may look complex at first glance, but it is very intuitive and user-friendly. Just spend some time learning its unique features and practising with the updated MT5 toolkit, which is designed to give an enriching and fulfilling trading experience to all users alike.
(*)