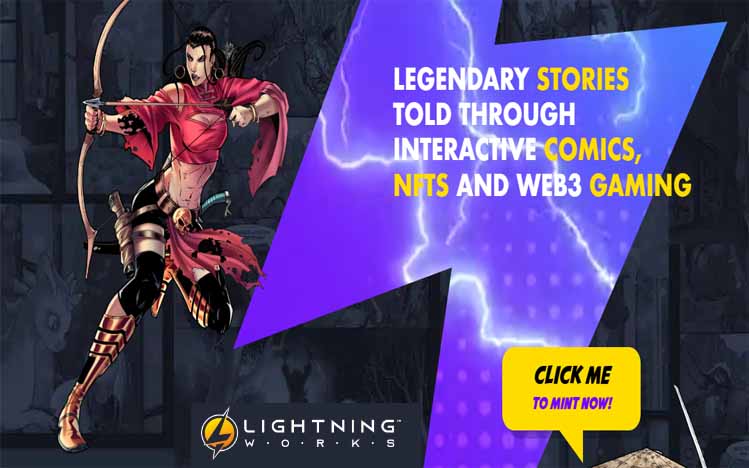 LightningWorks' goal is to preserve the magic of comics in the digital world and revolutionizing storytelling while reshaping the future of entertainment is becoming ever more real. The company, which focuses on merging comic books with interactive games and NFTs, received $2.5 million in seed funding. To launch the world's first NFT comic book.
The company founded by Geoff McCabe has been self-funding since 2020. And now, they are ready to launch the world's first NFT comic book.
Platform
lightningworks.io
Stage
Seed
Raise
$2.5 Million
Founder
Geoff McCabe
Investor List
Geoff McCabe.
Year
Jun, 2023
/*
Funding Summary Table
According to McCabe, gathering and collecting comics in the form of physical books, like when he was a child, was fun. But with the high stretch of digitization, he is worried that physical books will become extinct over time. To avoid this worry, he has dedicated his life to preserving comic books in the digital realm.
In the process of digitizing legendary characters and immortalizing comic books as NFTs, LightningWorks hopes to protect their cultural significance and change the way comics are told.
The comic and manga industry's compound annual growth increase (CAGR) is 16%. With a global market exceeding $10 billion in comic book sales alone. When combined with the overall value of the character, movies, toys and merchandise exceeds $200 billion.
That being said, McCabe's project was absolutely timely. When people are getting tired of collecting unique physical items like comic books.
LightningWorks is redesigning comics and manga in the digital age by introducing interactive comic book NFTs connected to play-to-earn (P2E) games.
With the first digital comic book titled First offering "Sieghe World Zeor". Which combines the classic comic genre with gameplay.
This digital manga allows readers to engage in exciting games. Such as solving puzzles, engaging in combat, and sharing adventures in other heroic digital worlds.
Not only digitizing comics and manga. The platform also aims to empower artists, songwriters and writers by leveraging AI technology. They can realize their desire to monetize their work by connecting directly with fans and audiences.
With LightningWorks, artists, writers and songwriters can create without the limitations of place and location. Allowing them to develop work, redesign storytelling and entertainment experiences.
LightningWorks allows users to combine multiple comics to create rarer tiers. Copy and replace the paper supply that has begun to decrease. And collect them using digital devices.
As information, NFT or Non-Fungible Token is a digital asset that represents something of value. By using a value that cannot be replaced or exchanged.
And every NFT has data in the form of who the creator is, price, and ownership history, as well as transaction records in the blockchain.
(*)