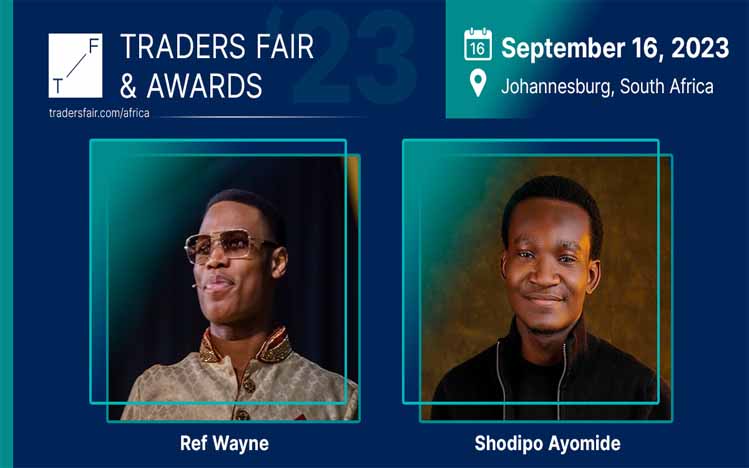 PRESS RELEASE, Johannesburg, 28 June 2023  – Traders Fair, the highly anticipated global event series that has enraptured audiences worldwide, is set to make an impactful debut in South Africa. This extraordinary gathering offers a unique opportunity for finance enthusiasts to broaden their knowledge, explore lucrative business prospects, and immerse themselves in a world of information and entertainment.
In the ever-changing landscape of financial regulations, staying abreast of the latest developments can be daunting. However, at Traders Fair South Africa, attendees will have the privilege of hearing from a distinguished lineup of finance experts and business leaders – and here's the best part: admission is entirely free. Our primary objective is to equip attendees with the knowledge to make informed, pragmatic decisions that propel their trading and investing endeavours to new heights. Seizing this invaluable opportunity is paramount.
We are thrilled to unveil our esteemed lineup of speakers for this event. Taking centre stage is Ref Wayne, the trailblazing CEO of ForexAMG and a self-made millionaire. Renowned for his groundbreaking contributions to forex trading and cryptocurrency in Africa, Wayne has enchanted audiences of over 80,000 individuals annually with his enlightening speeches and seminars. A highly sought-after keynote speaker and seminar leader, he has shared his wealth of expertise through best-selling books like "The Art of Trading" and "Top Down Analysis on the Financial Markets."
Completing this stellar lineup is Shodipo Ayomide, a seasoned engineering and developer relations leader with an impeccable 11-year track record in the technology industry. Ayomide's expertise in Developer Relations, Blockchain applications, and global cross-team leadership has garnered widespread recognition. As the former Global Head of Developer Advocacy at Polygon, he has demonstrated exceptional skills in web and mobile engineering, community management, and fostering robust relationships with developers worldwide.
Stay tuned for further updates on the fascinating topics that our esteemed speakers will cover during the event and more speakers lineup, as we are also actively seeking prominent speakers to enrich the lineup and offer diverse knowledge. Join us at Traders Fair South Africa 2023 this 16th September 2023 at Protea Hotel, Johannesburg Wanderers, from 9:30 – 18:00.
The well-being and safety of our attendees are our utmost priority. Stringent safety protocols have been implemented, and attendance numbers will be strictly regulated to ensure a secure and healthy environment.
For comprehensive event details and to register your interest, please visit tradersfair.com. For media inquiries and partnership requests, please contact FINEXPO at info@finexpo.org.
Join TRADERS FAIR in social networks:
https://www.facebook.com/TradersFair
https://www.instagram.com/tradersfair.asia
https://www.youtube.com/user/finexpo
(*)