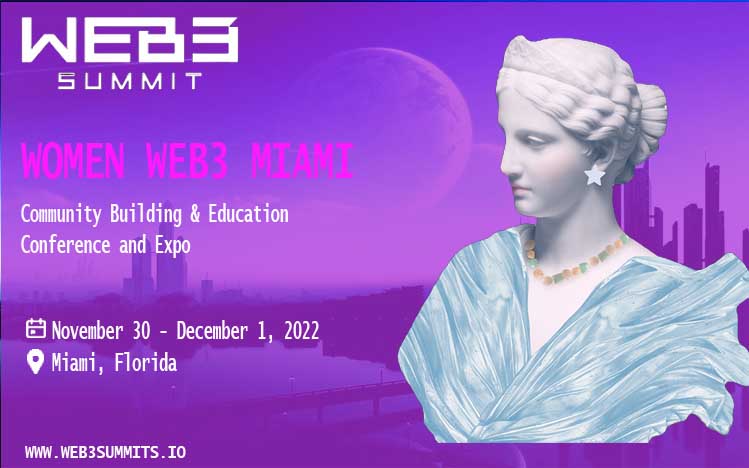 Geo:
Florida, United States  
Venue:
Miami Airport Convention Center, Miami
Date:
Wednesday, 30/11/2022 – Thursday, 01/12/2022
Tickets:
$99 – $999
Site:
https://www.web3summits.io/
The Web3 Summit will be held in Miami, Florida, Miami Airport Convention Center, for 2 days, presenting 100+ Speakers, 80+ Exhibits and 5000+Attendees.
Web3Summit's mission is to spread the power of optimism. We strive to ensure everyone who attends our events leaves feeling that they have become part of a great community, having acquired the knowledge to grow as better people, in business and in our personal lives. We value and respect each individual's contribution and support to make this event a reality. We look forward to seeing you at the Women Web3 Miami event from November 30 to December 1, 2022.
Speaker:
Anastasia Drinevskaya, Cointelegraph, CEO
Ali Haseeb, Goat Society, CEO
Lucas Bean, Wonder Labs, Founder/Advisor
Adryeen Ashley, Wow is Me Inc, Founder
Shane Gatzke, Ethereum Towers, COO
Adam Anwar, Menzy/3x capital, CEO
Amy Matsushima, Women of Crypto, Founder
Mec Zilla, Dead Fellaz, Innovation Consultan
Andrea Ocampo, HBU Media & Make me Viral, CEO
Brando Murphy, Bigger Than Race, Crypto Consultant
Creatress, Creatress VT, Performance Artist/ DAO Founder
Yu-Kai Chou, Metablox Founder
Sandy Carter, Unstoppable Domains, SVP&Channel Chief
Brian Breach, Make me Viral Media, Founder
Winny, Wdotw.xyz, Consultant
Duquan Brown, Future Media, CEO/Founder
Travis Wright, The NFT Agency, Founder
Yael Tamar, Solid BLock, CEO/Co-Founder
Chizlan Guenez, Queen Mode NFT/The Modist, Co-Founder
(*)