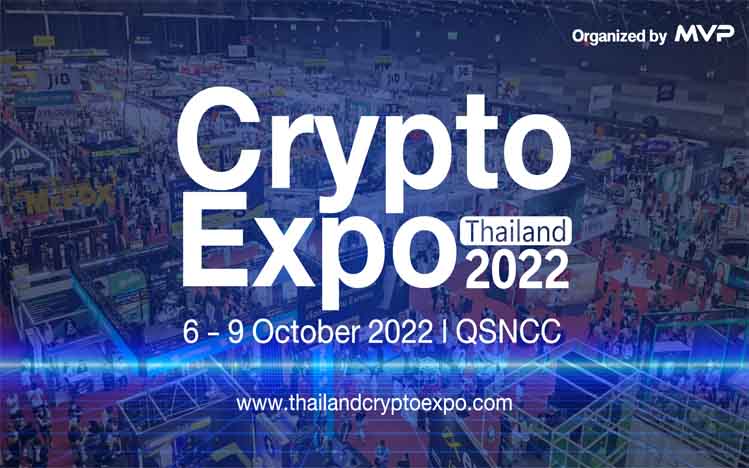 – This event has ended, see other events in the Events Calendar. –
---
Thailand Crypto Expo 2022 will take place in Hall 5-6 Queen Sirikit National Convention Centre, located in the heart of Bangkok, Thailand. event will also feature unique crypto zones, including: Exchange Zone, Networking Zone, Conference Zone, Metaverse & GameFi Zone.
The trendiest themes and emerging ideas throughout the world right now include blockchain technology, cryptocurrency, metaverse, non-fungible tokens, digital assets, etc. It's crucial to comprehend these ideas and the most recent technical advancements to maximize your results.
M Vision PCL. This expo aims to shed light on the following:
Offer in-depth understanding of digital assets, blockchain technology, and how these components interact in the cryptocurrency industry.
Assist people, groups, and investors in connecting with crypto specialists and service providers in search of fresh investment prospects.
Establish a unique, perfect platform where people can learn more about how blockchain technology will benefit them in the future and build their businesses.
Hear from and connect with C-Level executives, professionals, and influencers in the crypto-sphere globally.
---
Alex Pham PhD, CEO & Co-Founder Realbox
Anders Johnsson, CEO Love.Io
Apakon Putnok, Research And Development Strategy Trader
Apichai Ruangsiripiyakul, CEO Terosoft Capital Group
Apiwat Goganoot, System Consulting Manager, NRI Consulting & Solutions
Apporv S, Creator @ Honey.Land
Ben Chan, Director UKISS, Technology
Bharat Gandass, Co-Founder of Gagsty
Bobby Sim, Co-Founder of Valluna & CEO of RSG
Bonnie Jung, Growth Lead of Monverse
Chanon Jaratsuttikul, CEO & Co-Founder Forward
Chewin Sirisak, CEO Erectrus Metaverse Thailand Accelerator
Darius Askaripour, Managing Director At Varys Capital
Dasha Bolshakova, Legal Expert Scrye Solutions
Desmond Francis, Managing DesFran
Dome Charoenyost, Founder Of Tokenine
….
Freddy Lim, COO, FMEX Football Metaverse Founder, Hungry Hamsters CluHerve Lacorne, Founder And CEO of Winstant Ltd
Irene Umar, Co-Founder & Indonesia Country Manager
Jessica Tian, Head Of Partnerships Dex Ventures
Justin Yuan, Investment Analyst @ DWF Labs
Ken Nizam, Co-Founder & CEO ATF Capital
Koh Bin Hing Andy, CEO of Gems Esport 3.0 Platform
Kosit Khumsap, CEO & Co-Founder Tripster
Lottfi Zaouini, Founder And CEO of KodeLab LTD
Manindra Majumdar, Founder-Tokenizer, BlockX Pop
Mathias Ruch, Co-Founder & CEO CV VC AG
Maxim Gazeev, AtoZ PR Agency Co-Founder
Mikhail Savchenko, CEO Metaventures
Minh Loi Hang, YGG SEA Vietnam Country Manager
Myrtle A., Founder & CEO Block Tides
Nares Laoannari, CEO Ricco Wealth
Natavudh Pungcharoenpong, Co-Founder And Co-CEO at Six Network
Nisachol Phusirivanich, CEO Bond Street
Nuttapong Tungdajahirun, CEO of Sabuy Digital
Nutthanest Naisuntud, Marketing Manager
Papatchanan Angwarawat, CEO Techtoro
Parin Sathianpagilana gorn, Founder of Metaverse Global
Passakorn Pannok, CEO of Bitkub Blockchain Technology
Paul Wan, Founder of Metaverse Global Chair of The Board Of Directors of Morison Global Limited
Pavel Bains, Executive Producer MIXMOB
Pipat Wattanamongkol Siri, CEO of 9 Cat Digital
Piya Tantivachyanon, President Superrich Currency Exchange
Pongwud Praipaisankij, CEO Digital Asset 6524
Prasong Patheeppnoemphong, Vallaris Maps Plaform
Rati Montreewat, Blockchain Engineer At SCB10X
Saharat Anuwatmatee, CEO of SIAMBC
Sanjay Popli, Co-Founder Cryptomind Group Holdings
Sarah Buxton, COO Gala
Sascha Jochum, Head of Web3 Ampverse
Shas Fung, Founder At Star Symphony
Sittichai Theppaitoon, INDYverse / Debuz / Gameindy Co-Founder
Stefano Virgilli, Partner in Web3 Venture Capital At Dwf Labs
Tanakorn Limvittaradol, Business Development Director Finnomena
Thanarat Kuawattanaphan, CEO Domecloud
Thanawat Lertwattanarak, CEO J Ventures
Theerapong Settiwat, CMO Playbux
Tobias Bauer, The Principal At Blockchain Founders Fund
Toby Gilbert, CEO & Co-Founder Coinweb
Vachara Aemavat, Co-Founder And Co-CEO at SIX Network
Vaibhav Ali, Co-Founder Cryptoniteuae
Vishishta Rakesh, Head Of Partnerships At Blockchain Valley Ventures
View More Speaker
---
Facebook: facebook.com/thailandcryptoexpo
Telegram: t.me/thailandcryptoexpo
---

M Vision PCL
Contact
Email:
info@mvisioncorp.com
Login to View
---