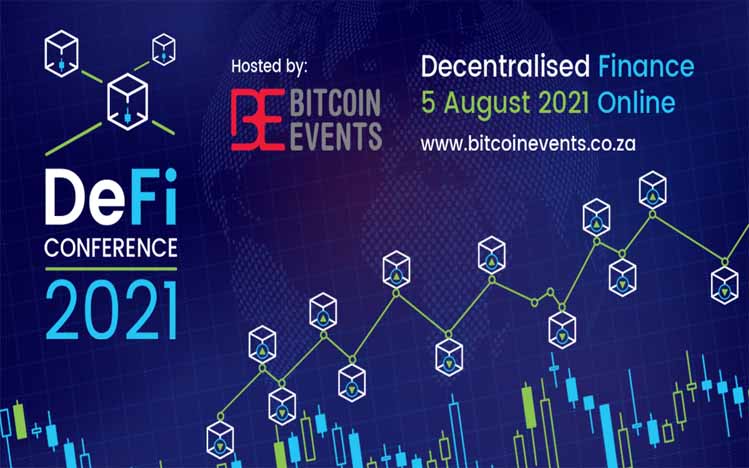 – This event has ended, see other events in the Events Calendar. –
---
DeFi Conference 2021 is an exciting 1-day free online conference on August 5, 2021. This event will explore two of the hottest trends that have emerged in the industry over the past few years: DeFi and Non-Fungible Tokens (NFT).
On the DeFi track, speakers will explore the factors that have contributed to the rise of decentralized finance, its impact on the current financial system, and the players in the market such as in international remittances, loans and loans, derivatives, trading, payments and asset transfers.
On the NFT track, speakers will discuss the current status of NFTs, environmental impacts, copyright issues, leading NFT markets and manufacturing platforms, legal implications of NFTs, and the future of NFTs.
The future is certainly exciting for both DeFi and NFT, and the decentralization movement will have a significant impact going forward.
Sam Bankman-Fried (Keynote), CEO and Founder at FTX
Aaron Tilton (Keynote), CEO and Co-Founder at SMARTFI
Yele Bademosi (Keynote), Founder of Bundle Africa
Shazaib Jaffer (Keynote), Co-Founder of DIMO
Joshua Scigala (Keynote), Co-Founder of Thestandard.io and CIO of Vaultoro
Stephen Stonberg, CEO of Bittrex Global
Edan Yago, Contributor of Sovryn
Bill Xing, Head of Financial Products at Bybit
Mohammed Carrim Ganey, CFO and Co-Founder at Curate
Kristina Lucrezia Corner, Editor-in-Chief of Cointelegraph
Luigi D'Onorio Demeo, Director of Defi at AVA Labs
Diego Gutierrez-Zaldivar, Co-Founder of RSK
Duke Vu, CEO and Founder of ULTI Arena
Sergej Kunj, Co-Founder of 1Inch Network
….
Ran Neu Ner, Co-Founder and CEO at Onchain Capital and Founder at Crypto Banter
Ajit Tripathi, Head of Institutional Business at AAVE
Andreas Kohl, Director of Institutional Relations at Mintlayer
Jack Lu, Founder and CEO of Wanchain
Eric Anziani, COO at Crypto.com
Shane AI, Head of Research and Development at Bybit
Alex Svanevik, Co-Founder and CEO at Nansen
Alex Melikhov, Founder and CEO at Equilibrium
Serena Tabacchi, Director and Co-Founder Mocda, Museum of Contemporary Digital Art
Deniz Omer, Head of Ecosystem Growth at Kyber Network
Anish Mohammed, Co-Founder of Panther Protocol
Nick Martitsch, Business Development associate at Compound Labs
John Patrick Mullin, Co-Founder of Mantra DAO & Soma.Finance
Piers Ridyard, CEO of Radix DLT
Maria Paula Fernandez, Advisor at Golem Factory GMBH and Founder and Managing Director of ETHBerlin
Monica Singer, South Africa Lead for Consensys
Dylan Dewdney, Chief Effort Officer at Kylin Network
Agata Ferreira, Expert at The EU Blockchain Observatory and Forum and Advisor for Blockchain for Europe
Neurshka Bowan, Director and Head of Technology and Innovation at Norton Rose Fulbright South Africa
Richard De Sousa, Founder and CEO of Altcointrader
Joshua Ellul, Director of The Centre for DLT at The University of Malta and Chairperson of The Malta Digital Innovation Authority
Jesus Rodrigues, Co-Founder and CEO at Intotheblock
Guy Maevsky, Legal Advisor
Alexis Johnson, President of Light Node Media
Daniel Ospina, Head of Governance at Aragon
Toufic Adlouni, Co-Founder and Managing Director at Renno & CO
Jillian Godsil, Journalist, Broadcaster and Chair/Keynote
Elliot Wainwan, Creator at Elliotrades and Co-Founder and CEO of Superfarm
Nelson Merchan JR, CEO of Light Node Media
Lavinia Osbourne (MC), Host and Founder of Women in Blockchain Talks
View More Speaker
---
Facebook: facebook.com/BitcoinEventsZA
Twitter: twitter.com/BlockchainZA
Linkedin: linkedin.com/company/bitcoin-events/
---