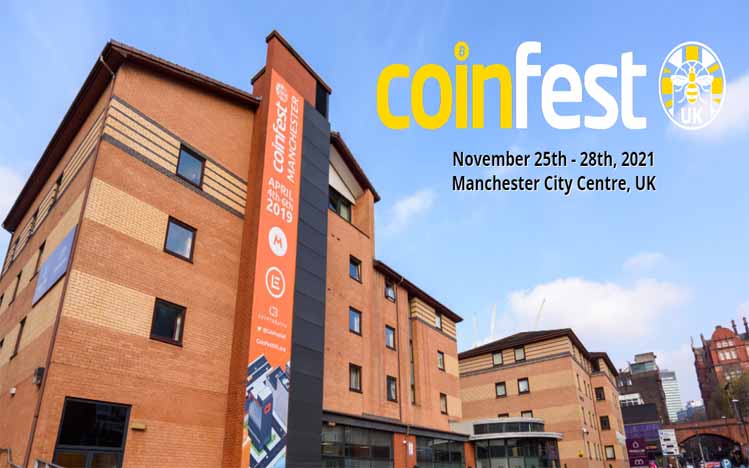 – This event has ended, see other events in the Events Calendar. –
---
CoinFestUK is a free, multi-tracked, crypto-focused event aimed at all levels of Crypto enthusiasts, hosting beginners to 'OG' and B2B guests, VIPs, and governments.
CoinFest started in 2013 at Waves Coffee House in Vancouver. It was conceived as a way to encourage acceptance of cryptocurrencies while educating the public about their importance and use.
In 2015 CoinFest spread worldwide and in 2016 Manchester hosted the first UK CoinFest event! Since 2016 we have grown phenomenally attracting a global audience to our events, hosting some of the most established crypto companies and connecting with a huge scope of Crypto enthusiasts with many returning every year!
New for 2021
Blue track: This track will be dedicated to beginners leading them towards workshops, exhibitors and beginner focused materials!
Trading Corner: Want to learn to trade crypto? At CoinFestUK you can hear from some of the most experienced traders and businesses in the Crypto space.
DeFi Track: Learn about decentralized finance from industry leaders!
CBE Token: 2021 will see use of our social/event tokens, earn our tokens by volunteering, taking part in sponsorship surveys and competitions and spending your tokens with our partners for exclusive discounts, get free drinks, or gain backstage access.
---
Purple Track: Speakers Track, hosts a variety of speakers covering a wide range of topics.
Green Track: Exhibition Track Our exhibitors showcase projects from across the crypto ecosystem from exchanges, wallets, altcoins, trading platforms and retail businesses.
Orange Track: Workshop Track Workshops are always a huge success, our workshop hosts cover topics including hardware wallets, bitcoin basics, mining, trading, blockchain development, NFTs and coding.
CoinFestUK Artwork Track: Artwork from artists from around the world displaying their art at our events, we have hosted some of the greatest artists in the crypto space and are always amazed by the dedication and support of crypto artists.
---