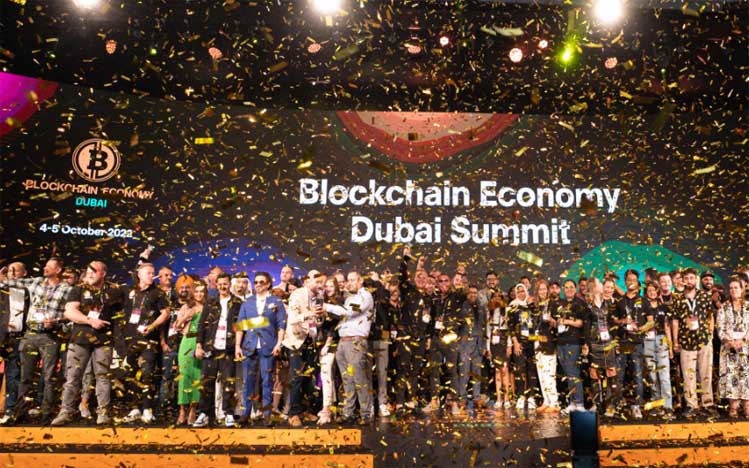 This event will take place in the next,
Register
---
Blockchain Economy Summit is the world's largest blockchain conference network bringing together the key players of crypto industry and experts to redefine the future of finance. The 8th edition of the Blockchain Economy Summit will take place during two days in Dubai on October 4-5, 2023 with the world's top crypto companies, blockchain entrepreneurs and AI innovators. Today, UAE, specifically Dubai is gearing up to become a global crypto hub, also embracing the AI technologies to boost efficiency and implementation across public services. Thus, Blockchain Economy Dubai Summit will be the Main gathering in the region on behalf of the world of blockchain, cryptocurrency and AI technologies, with a wide range of topics focused on the revolutional technologies of the future, extensive networking opportunities and participation from more than 85 countries.
The Blockchain Economy Dubai Summit actively encourages inclusive and thorough exploration of the potential synergies between Blockchain, AI, cryptocurrencies, seamless payments, Metaverse, Web3, DAOs, DeFi, and NFTs through insightful discussions by hosting wide variety of industry leaders. This summit serves as a catalyst for collaboration, knowledge sharing, and the successful implementation of these transformative technologies, ultimately driving their adoption and integration into the global economy.
---
Martin Hanzl, Head of New Technologies at EY Law
Lennix Lai, Global Chief Commercial Officer at OKX
Michaël van de Poppe, Crypto Trader and Market Analyst, CEO & Founder of MN Trading
Sam Blatteis, CEO of The MENA Catalysts
Matthew, Sigel, Head of Digital Assets Research at VanEck
Amnah Ajmal, Executive Vice President – EEMEA Mastercard UAE
Fred Sun, Head of Strategy at Tencent Cloud International
Giorgio Torre, Technology Project Manager at a Leading Consulting Firm in Saudi Arabia
Charles Cheng, Ph.D, Forbes China 60
Tom Busby, Co-Founder of Crypto Busy
Pamela Alexandra Linaldi, Business Development Manager at B2Broker
….
Danny Winn, Founder and CEO of FoxiFy
Jake Greenbaum, Crypto VC
Tejinder Kumar, Chief Commercial Officer at Finixio
Solandia Jurdi, Founder of Hive Zero
Manpreet Kohli, CFO at Saitama
Alex Fazel, Chief Partnership Officer at SwissBorg
Julian Banks, Founder of Cosmic Haze Studios and Snoop Dogg NFT
Shogo Ishida, Co-CEO of EMURGO Middle East & Africa
Grace Sabandar, Co-Founder of Indonesia Blockchain & Metaverse Center Indonesia
Josh Moden, Co-Founder of Crypto Busy
Adel Bhurtun, CEO & Founder of Traders Brawl
Nishant Behl, Founder of Expand My Business
Ezra Reguerra, Journalist and Reporter at Cointelegraph
Jonathan Dunsmoor, Founder and Principal at Dunsmoor Law
View More Speaker
---
Blockchain & AI Economy
Cryptocurrencies
Seemless Payments
Metaverse
Web3
DAOs
DeFi
NFTS
---
Twitter : twitter.com/BEconomy_HQ
Instagram : instagram.com/blockchain_economy
---