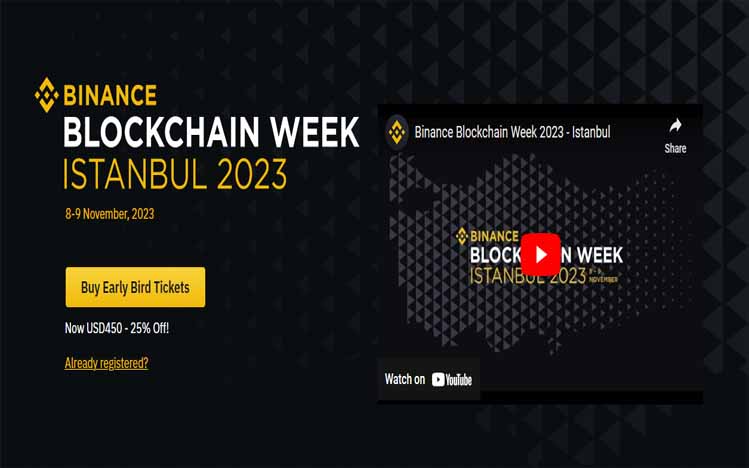 – This event has ended, see other events in the Events Calendar. –
November 08-09, 2023
Kuruçeşme, Muallim Naci Cd. 61/A, 34345 Beşiktaş, İstanbul, Turkey
binanceblockchainweek.com
---
Binance Blockchain Week Istanbul 2023 is more than just a conference—it's where traders, founders, institutional investors, regulators, global officials, and innovators come together to explore and shape the future of blockchain technology.
This year's focus is on how blockchain and crypto can financially empower a billion more users around the globe. As a leading force in the Web3 arena, Binance is devoted not only to accelerating the adoption of blockchain technology worldwide but also to helping you keep pace with this rapidly evolving industry.
Binance Blockchain Week Istanbul 2023 is a unique opportunity to learn, connect, and develop your ideas. Through our exhibitions and hands-on workshops, you'll gain practical knowledge about building businesses, bootstrapping, and launching successful projects on the blockchain.
---
Yat Siu, Co-Founder and Executive Chairman, Animoca Brands Limited
Faruk Eczacıbaşı, President, Turkish Informatics Foundation
Sebastien Borget, COO and Co-Founder, The Sandbox
Eowyn Chen, CEO, Trust Wallet
Richard Teng, Head of Regional Markets, Binance
Shane O'Connor, Innovation Manager – Emerging Tech, UNICEF
Adrian Zdunczyk, CMT, Founder, CryptoBirb / THE BIRB NEST®️
Alexandre Dreyfus, Founder and CEO, Chiliz
Asst. Prof. Bora Erdamar, Director, BlockchainIST Center
Azeem Khan, Head of Impact, Gitcoin
Bill Qian, Partner, Cypher Capital
Catherine Chen, Head of VIP and Institutional, Binance
Edgars Laimite, Co-Founder and Head of Trading, Gravity Team LTD
H.E. Justin Sun, Founder, Tron Dao
İsmail Hakkı Polat, Blockchain and CryptoCurrency Lecturer, Kadir Has University
Jamie Thomson, CEO, Vulcan Forged
….
Jiayi Li, Co-Founder, Salus & Geekcartel
Martins Benkitis, CEO and Co-Founder, Gravity Team LTD
Mike, COO, Allnodes
Mücahit Donmez, General Manager, Binance Turkiye
Nick Rose, CEO, Ethernity Chain Ltd
Noah Perlman, Chief Compliance Officer, Binance
Rachel Conlan, Chief Marketing Officer, Binance
Roshan, Researcher, Marlin
Sadullah Uzun, Başkan Yardimcisi, Tübitak Bilgem
Tansel Kaya, CEO, Mindstone Blockchain Labs
Tony Petrov, Chief Legal Officer, Sumsub
Vadim Khramov, CIO, Edge Capital
Vishal Sacheendran, Regional Director – Strategy and Operations, Binance
Yogi, CEO, TinyTap
Yuelin Li, Chief Product Officer, Onfido
View More Speaker
---
TBA
---
Twitter : twitter.com/binance
Instagram : instagram.com/Binance
Youtube : youtube.com/binanceyoutube
---