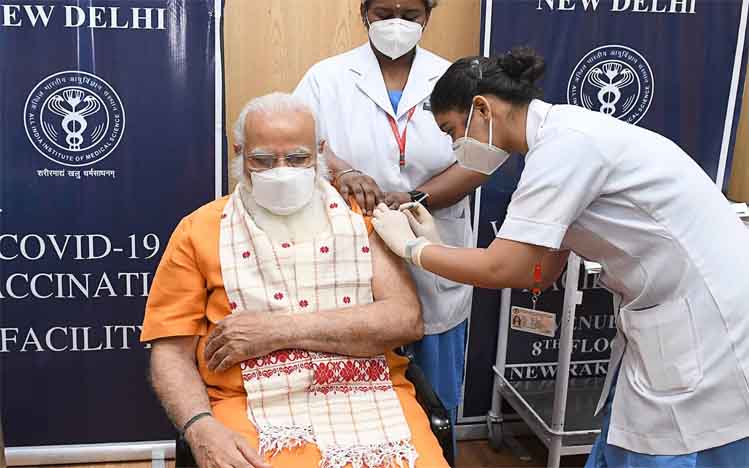 KANALCOIN NEWS – Ethereum co-founder Vitalik Buterin and another cryptocurrency magnate, Balaji Srinivasan, are providing financial assistance to India, which has just been hit by a massive second wave of COVID-19.
Buterin and Srinivasan channeled aid to fundraising originator Sandeep Nailwal, who is also the founder of an Ethereum scaling platform in India called Polygon. It all started with Nailwal's tweet on his personal Twitter account.
In the tweet, Nailwal revealed that he could no longer remain silent, he was spearheading the COVID-19 relief campaign that took place in India. Nailwal also explained India needed help from the crypto community and pinned an Etherum-based address in his tweet.
The address is intended for anyone who wants to donate aid for the handling of the second wave of COVID-19 that attacks India. Apparently, Nailwal's tweet was able to touch the heart of Srinivasan who is also the former CTO of Coinbase and board partner at VC firm Andreessen Horowitz.
Balajis tweeted that he had donated $50k in ETH and asked others to contribute to the cause as well. Buterin then answered Nailwal's call by uploading proof of transfer of 100 ETH and 100 MKR or worth more than $600 thousand US dollars.
If you've been fortunate enough to do well this year, consider joining me and @VitalikButerin by donating at the addresses below.

But if all you have is Twitter, help spread the word. For every RT, I'll donate another $50 to fight COVID in India, up to $100k. #cryptovscovid https://t.co/eKlOlccelv

April 25, 2021
Reported by Kanalcoin.com from Coindesk, Srinivasan then responded to Buterin's generosity and said that for those who can't afford to donate, he will give $50 up to $100k in value, for each person who retweets his tweets.
There is a possibility that their generosity may not be accepted, this is because the Indian government is preparing a law that will ban cryptocurrencies.
The founder and CEO of Policy 4.0, Tanvi Ratna, said the campaign was very daring and risky as foreign funds for charitable purposes are heavily accounted for under Indian law. Policy 4.0 is a research and advisory firm currently focused on digital currencies and blockchain.
According to Ratna, crypto is the most sensitive area chosen to collect donations and provide assistance to the COVID-19 disaster in India. Given the current crisis, perhaps Nailwal and Ratna will find an audience willing to accept the results of their campaign.
On Sunday (4/25/2021) morning local time, Indian Prime Minister Narendra Modi announced that their country was "rocked" by the storm of COVID-19 infections, according to a report in India Today.
Indian authorities announced a total of 349,691 new cases had emerged on Sunday, a record for a single country, as reported by The Guardian. The newspaper also mentioned that India had reported a total daily death toll of 2,767 deaths, which is also a record.
Nations around the world are ready to help India face the latest wave. Saturday (24/4/2021) evening local time, the United States Secretary of State, Anthony Blinken, promised in a tweet on his Twitter account, that his country would immediately mobilize support for the Indian people.
(*)