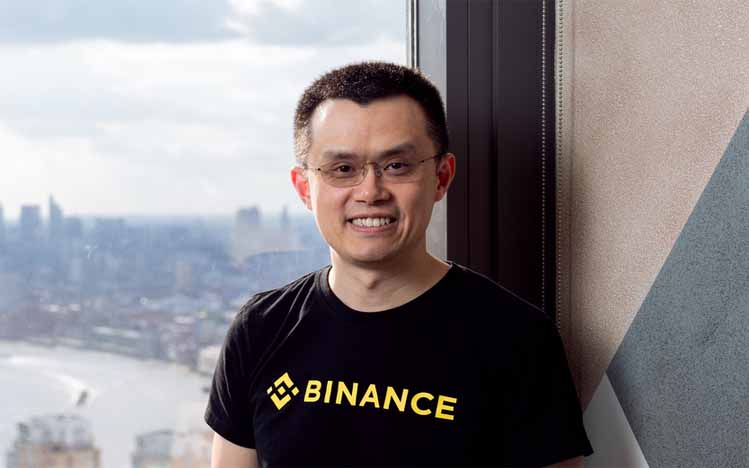 For those of you who are just entering or getting to know the world of cryptocurrency, you certainly have important figures who inspire you in making long-term investments in certain types of cryptocurrencies. One of the most important figures in the crypto world is Changpeng Zhao.
In the crypto world, the name Changpeng Zhao is included in a row of people who are successful in running a business in the cryptocurrency digital currency industry sector. According to Forbes, Changpeng Zhao's total net worth is estimated at $1.9 billion.
Newbies who just plunge into the world of crypto may still be unfamiliar with the name. In this article, we will give you a little information about Binance CEO, Changpeng Zhao.
Profile of Changpeng Zhao, CEO of Binance
The following is a brief profile of Changpeng Zhao, CEO of Binance that we can share with you, including:
Changpeng Zhao is widely known to the public as the founder and CEO of a company engaged in the world's largest cryptocurrency exchange, namely Binance.
Exactly in 2020, Zhao's crypto asset product, namely Binance Coin or BNB managed to record a trading market capitalization value of $2 trillion on cryptocurrency exchanges.
Zhao has made various innovations to his cryptocurrency exchange company. One of them is in dealing with various kinds of regulations that exist in a number of countries.
Currently, Zhao chooses to live in Singapore.
Get to know the CEO of Binance, Changpeng Zhao
Changpeng Zhao or more familiarly known as CZ, is known as a CEO who always provides innovation and makes new developments for his platform. He even managed to make big strides for his company in just 180 days.
CZ was born in Jiangsu, China. His father is a professor. His mother is also an educator. The Zhao family emigrated to Vancouver, Canada, in the late 1980s. At a young age, Zhao has already taken care of the household expenses. He used to work part-time at night at a gas station.
To date, Zhao's company is listed as having a net worth of $1.1 billion. Before reaching this level of success, Zhao lived and grew up in a family with a low-middle income. He even worked as a McDonald's employee to support his family and help his economy.
In higher education, Zhao chose to major in computer science at McGill University in Montreal. After graduating, he then worked at the Tokyo Stock Exchange. At the company, Changpeng Zhao started to build a useful system to make it easier to match orders on trades.
After that, he then did development on useful software for trading Bloomberg Wall Street futures. Right in 2005, CZ decided to quit the company and started a new step by moving to Shanghai China, to establish Fusion Systems.
Since 2013, Zhao has been focused on the crypto and blockchain sector. He works for Blockchain.info as chief technology officer and acts as chief technology officer at OKCoin.
In 2017, Zhao officially started Binance and launched a crypto asset product. In less than a year, Binance managed to become the largest crypto trading platform in the world.
Being someone who has competence in the field of blockchain and trading systems, Zhao then developed Binance into a new ecosystem in blockchain that serves cryptocurrency exchanges.
Zhao's Binance company has innovated in developing several internal platforms such as Labs, Info, Academy, Trust Walle, Exchange, Launchpad, Research, and the Charity Foundation.
Exactly one year ago, in 2020, CoinMarketCap was acquired by Binance and several other companies such as Swipe.io. After that, Binance began to expand and invest in various other types of projects.
CZ in the Crypto World
Zhao's Binance company is known to have the ability to serve 1.4 million transactions per second. This speed has certainly succeeded in attracting public interest or interest. To date, the number of Binance users is recorded at 6 million people. This number makes Binance the largest cryptocurrency exchange platform in the world.
Since the coin offering in early July until now, the Binance BNB token has surged from around 10 cents to $13 and provided a market cap of $1.3 billion. Zhao – 41 – who wears a black hoodie like a cross between Mark Zuckerberg and Steve Jobs also has the largest stake in the coin.
In the early days when Zhao was just starting out in the crypto sector, he once sold his house in Shanghai in 2014 to get all the Bitcoin. He doesn't even own assets like cars, yachts, or luxury watches. Among the ranks of the world's crypto billionaires, Zhao is one of the figures who plunged as a crypto pioneer.
Changpeng Zhao once announced to his 33,000 followers on Twitter that Binance is hiring developers and customer support staff in Taiwan. Zhao said he plans to double the size of his existing team to 300 in the next three to six months.
The story about Changpeng Zhao who was successful in the crypto world as above will be very helpful, especially for those of you who are new to the ins and outs of the world of digital currency, cryptocurrency. From the CEO of Binance, you can take some important lessons for success in crypto.
(*)