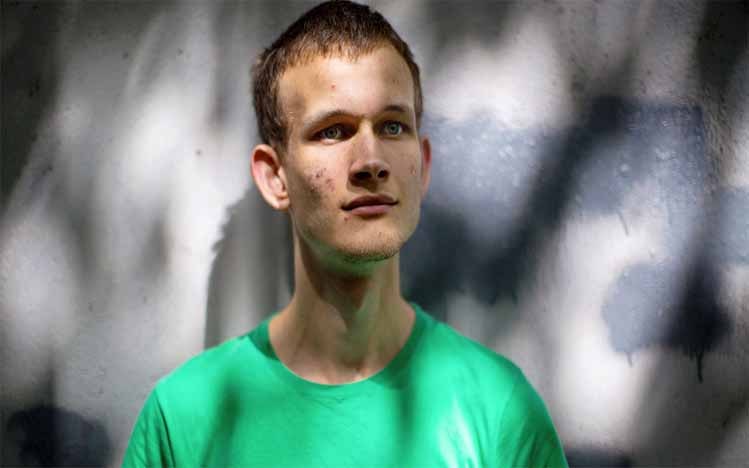 Kanalcoin.com – Still young, smart, and rich. That is the figure of Vitalik Buterin in the eyes of cryptocurrency activists. His figure has become increasingly famous since the price of cryptocurrency soared some time ago.
During the pandemic, cryptocurrency transactions were able to reach IDR 19.2 trillion. This figure grew by 26.4% from last year. Cryptocurrency itself is digital money that stands alone, unlike fiat currencies that are regulated and owned by a country.
Digital money is not printed and only limited in number. These assets can be used in various countries without having to go through an exchange process. In addition, cryptocurrency can also be used for shopping and as an investment.
Who is Vitalik Buterin?
Vitalik Buterin is a man from Russia who was born January 31, 1994. His parents are Natalia Ameline and Dmitriy Buterin. His mother is a Senior Finance Executive for various industries.
Vitalik Buterin is known as someone who is reliable in making decisions, operational management, and planning financial strategies. With his mother and father who are computer scientists, Vitalik Buterin lives in the city of Kolomna, 100 km from the Russian capital, Moscow.
When he was 6 years old, his family moved to Canada. Although not even ten years old, his father allowed Vitalik to transact with cryptocurrencies. This is what became the forerunner of Vitalik's foray into the crypto business.
Vitalik Buterin graduated from the University of Waterloo in 2014. In the same year, he was awarded a Thiel Fellowship which provides scholarships of USD 100,000 for young people under the age of 23 to pursue interests outside of academia.
The scholarship was funded by Peter Thiel who is a Facebook investor and founder of PayPal. Vitalik has been included in the "Top 100 Influencers" in Time Magazine. He was even juxtaposed with the president of El Salvador, Nayib Bukele, and Elon Musk who is the CEO of Tesla and SpaceX.
Vitalik Buterin's Twitter has more than 2.4 million followers. He uses this social media platform quite often and often becomes a speaker in Podcasts or seminars discussing the crypto space.
What is Vitalik Buterin's Wealth?
According to Forbes magazine, Vitalik Buterin is included in the ranks of the richest people in the world. He is predicted to have around 334,000 Ether which if traded in value can reach $ 3,415 per coin. Vitalik Buterin's total net worth stemming from holdings of Ether is estimated at $14.4 billion.
Vitalik developed Ethereum in 2013 when he was 19 years old. In addition to serving as the Co-Founder of the Ethereum Foundation, it turns out that Vitalik has served as the Co-Founder of Bitcoin Magazine and General Partner at Fenbushi Capital.
Vitalik founded Bitcoin Magazine in 2012. This magazine usually publishes information related to Bitcoin and crypto.
When Vitalik was 10 years old, he was already writing code for mini games. He did so with an old computer with the Windows 95 operating system and a C++ programming book with Allegro. In 2011, his father introduced Bitcoin to Vitalik. His skills continued to grow until he became known as a Russian-Canadian programmer.
During his time as a student, Vitalik also participated in the International Informatics Olympiad twice. He even finished fourth in the Olympics. He has also been involved as a developer for the Cody Wilson, Dark Wallet and Cryptocurrency Egora projects. Vitalik has also been named the 165th most popular computer scientist.
Vitalik Buterin Known to be Generous
Besides being smart, Vitalik Buterin is also known to be generous. He once donated USD 600,000 in the form of Ether and Make to help deal with Covid-19 in India.
It didn't stop there, he even donated USD 150,000 or equivalent to Rp. 2.1 billion. He handed over the donation to the SENS Research Foundation in 2020. He also donated USD 2.4 million or equivalent to Rp. 34 billion for research in the field of biotechnology, rejuvenation and expansion of human life.
Vitalik Buterin, Founder of Ethereum
Throughout 2021, the value of Ethereum has quadrupled. This is what makes Vitalik Buterin rich and into the ranks of the richest people in the world along with three of his friends namely Anthony Di Iorio, Mihai Alisie, and Charles Hoskinson.
Ethereum was first launched on July 30, 2015. But actually, the Ethereum project has been started since 2013. One of the Ethereum products, Ether, can be obtained at Crypto Stores and exchange platforms spread across various countries.
Ether is known as an alternative crypto that always occupies the first position among other crypto alternatives. Ether is often referred to as a counterpart to Bitcoin. Ether is built on the Ethereum blockchain which has the following advantages:
Has a smart contract feature that makes transactions safe. This feature serves to manage financial agreements between users, as multisignature accounts, storage, and third parties.
Ethereum is developed with open source. As a result, transactions are more transparent and stable. The risk of transaction failure can be resolved by only entering the source code.
Ethereum is a decentralized blockchain with no centralized authority. Transactions via the Ethereum blockchain are guaranteed not to fail.
Cardano and Vitalik Buterin
As if never satisfied with his achievements, Vitalik Buterin became interested in Cardano. Through a Podcast hosted by Lex Fridman, Vitalik has collaborated with Cardano founder and Ethereum co-founder, Charles Hoskinson.
That is a brief profile of Vitalik Buterin who is still young but has already reaped many achievements. He is one of the most influential figures in today's crypto world.
(*)