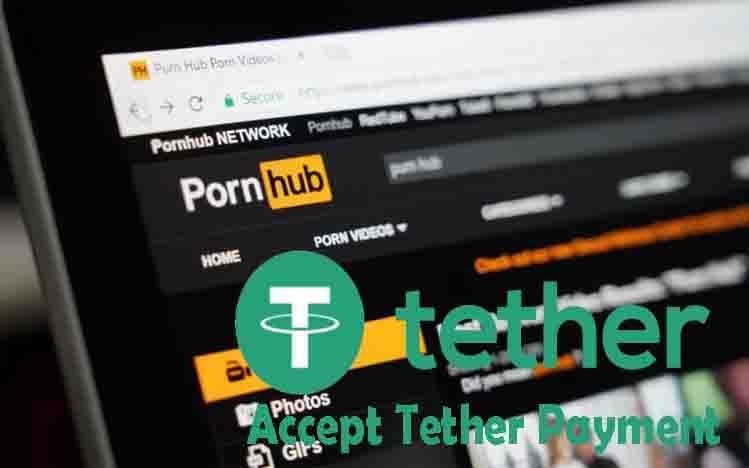 KANALCOIN NEWS –  PayPal is one of the world's largest trading payments. PayPal also dealt a huge blow to Pornhub, the adult entertainment industry, last year. Namely by blocking all transactions related to Pornhub and the contracts of the actors. The over 100,000 cast of this film is what Pornhub is supposed to earn from.
PayPal suddenly stopped its payment service to Pornhub since last November 2019. But Pornhub finally has a solution to its months of predicament. "Since Paypal's decision to stop paying to thousands of models (cast) two months ago, we are offering you more choices," said Pornhub.
Via the Pornhub blog, they added two new payment options. Namely Tether (USDT), a stablecoin pegged to the US dollar and Cosmo. This announcement was also revealed by Pornhub through its official Twitter account. The idea of using cryptocurrencies as a payment option is not new. Like Pornhub using cryptocurrency when PayPal withdrew its support.
Pornhub itself has actually been supported by Verge (XVG), cryptocurrency as a payment option since April 2018. Their blog post also claims that USDT and Tron blockchain have partnered to introduce payment options on Pornhub. The introduction of a stablecoin like USDT is interesting because it is unlike other cryptocurrencies like Bitcoin or Ethereum.
Tether is also not subject to high volatility or price swings.
"USDT transactions can be done globally in these seconds and there are no fees. Because the USDT and TRON blockchain have partnered. We can now pay models securely via TRONLink, a cryptocurrency wallet," reads the Pornhub post.
TRONLink is the native repository of Tron (TRC) which is the 12th largest cryptocurrency by market cap backed by Tron Foundation. The USDT token became available on the Tron network after Tether and the Tron Foundation partnered and wrote the first Tron-based USDT token in April 2019.
Tether is also one of the largest digital assets in the world with a market capitalization of over 4.5 billion US dollars. Stablecoins operate on various chains such as Ethereum, OMNI and Liquid. Certainly a viable option for facilitating worldwide payments. This website has also added the Cosmo payment option to its platform.
The payment options provide global access and easy withdrawals via local cash machines, online and in-store purchases. However, it is too early to say whether cryptocurrencies will be accepted by adult entertainment sites in the future. Whatever the case may be, cryptocurrencies are trying to fill the void left by PayPal.
Justin Sun, CEO of TRON, said Pornhub's decision to add USDT through TRONLink was brilliant. Moreover, to support the victims of centralized payment platforms such as PayPal.
(*)