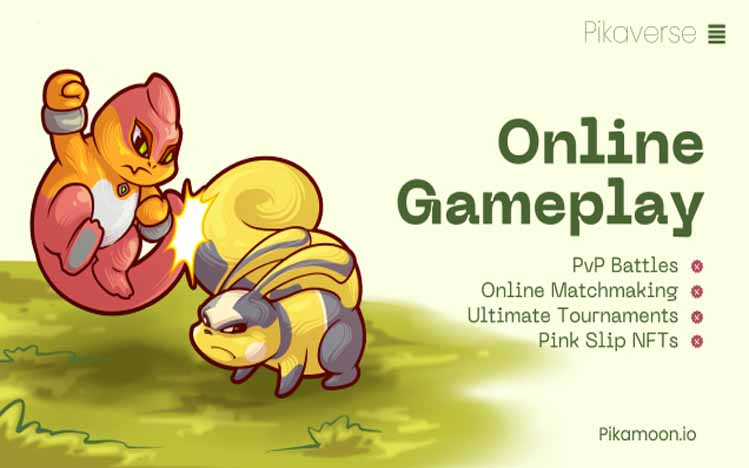 KANALCOIN NEWS – The Ethereum (ETH) ecosystem is no longer just the foundation of a crypto coin. But this time a game called Pikamoon has been launched using the Ethereum Blockchain. Even though it has just appeared, this Ethereum blockchain game has been able to raise investor funds of $ 3.6 million. This could add more value to the Ethereum ecosystem in the crypto market.
Pikamoon is billed as the most immersive metaverse game in the world. This game allows players to withdraw prizes or earnings directly to their account. Either to digital wallets or bank accounts without interference from third parties.
The advantage of this game compared to other games is that it has a realistic virtual appearance. Where players can get comfortable and 360-degree experience of a thriving virtual space through unrivaled gameplay, stunning visuals, and innovative DeFi features.
And the good news is that this game is inspired by the legendary game. Like Fortnite, Pokemon, and FIFA. With technology ready to mix the perfect metaverse of NFT, video games, and entertainment.
Built on Unity, the world's most advanced game development technology. To get the stunning visuals and architecture necessary to give players a truly immersive experience.
It doesn't end there. Pikamoon is built on two blockchains, namely Ethereum and MultiversX (formerly Elrond). Ethereum provides scalability, while MultiversX provides efficiency and environmental friendliness. You do this by reducing carbon emissions generated by transactions. And this dual blockchain feature was created so that the Pikamoon ecosystem can serve legions of gamers without lag.
In the first phase, one PIKA sells for $0.0002, then increases to $0.0004 in the second phase. And in the third and final phase, one PIKA sells for $0.0006 and sells out faster. From how fast the sales of phase one and phase two of the ICO is the reason why investors and game enthusiasts say that this game could be a bright future of gaming.
Several future-thinking industry leaders such as Ethereum, Transak, Cryptonews.com, Kevuru Games, and MultiversX, further strengthen the credibility of the project. They emphasized that they would continue to be committed to building the best of the best project games.
With Pikamoon, investors can enter what is strategically seen as the massive Metaverse marketplace and play games on the Ethereum blockchain. Every time a player makes a sale or transfer transaction occurs in the Pikamoon ecosystem, 0.5% of the tokens involved in the transaction are burned forever. Will generate more profit for long-term investors. This is the core deflationary nature of the PIKA token.
Those who are interested can use Ethereum to get this game during presale. This use of Ethereum not only simplifies the investment process for eager investors. But it also strengthens the entire Ethereum ecosystem.
(*)